Delicious zucchini patties with Greek tzatziki sauce.
A vegan summer recipe.
Summer is here and so are fresh zucchini. That's why zucchini patties are an ideal summer recipe. They are delicious as a hot or cold appetizer. They can be grilled, fried, or baked in the oven. We recommend you grill them, although they also become super tasty in the pan, and we also use only a little bit of olive oil for frying (see notes at the end of the recipe).
It is an appetizer that you will love, not only for its taste but also for its freshness. This is exactly what makes these vegan zucchini patties unique. Freshness! We cook them just for a while so the zucchini and carrot remain fresh, delicious, and juicy. What makes it stand out is their crispy crust, but also the side dish, vegan Greek tzatziki sauce.
An appetizer that will take you on a summer trip with seaside Greek taverns. A vegan recipe that you will make over and over again!
This post contains affiliate links. If you make a purchase, we get a percentage, at no extra cost to you. As an Amazon Associate, allaboutvegans.com earns from qualifying purchases.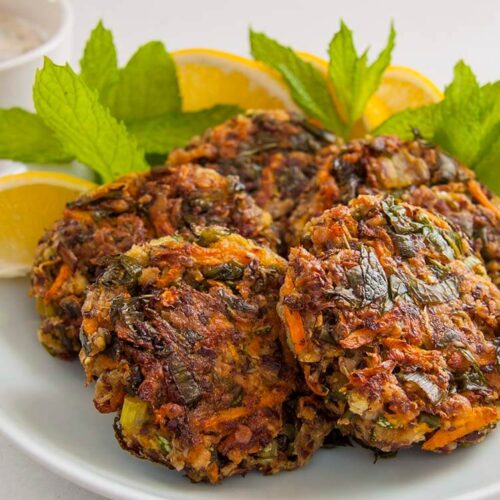 Grilled zucchini patties with Greek tzatziki sauce (vegan)
Grilled zucchini patties with Greek tzatziki sauce. A vegan summer recipe.
Print
Pin
Servings:
16
zucchini patties
Ingredients
250

 g

zucchini (2 medium)/8.8 oz

grated on the coarse side

1

medium carrot

grated on the coarse side

½

tomato

grated on the coarse side

2

small

spring onions

finely chopped

3

cloves

garlic

crushed

1

cup

fresh mint

finely chopped

1

cup

oat flakes

6

Tbsp

ground flaxseed

½

tsp

curry

¼

tsp

smoked paprika

or ½ tsp sweet paprika

2

Tbsp

olive oil

for brushing the patties

salt and pepper
Instructions
Put the zucchini in a strainer, salt them, mix them and squeeze them to remove most of their liquids. You will remove at least half a cup of liquids.

Then, put the zucchini with the rest of the ingredients (except the olive oil) in a bowl and mix.

Leave the oats and flaxseed to absorb the liquids for 10 minutes. You should have a relatively dry mixture, but not hard. It should be easy to shape the balls and the zucchini patties should not dissolve.

Finally, shape 16 balls and then press them to become relatively flat (about 1.5 cm/0.6 in high). Brush them with olive oil and put them in a baking sheet.

Preheat your oven to the highest temperature, turning on your broiler and grill the vegan zucchini patties for 10 minutes on one side (or until golden brown), and for another 5 on the other side.
Serving
They are delicious, served hot as well as cold.

They can also be the main dish. In this case, garnish the dish with a side dish. Such as tomatoes, french fries, pilaf (rice), or a salad.
Notes
You can also fry them (not deep frying). In this case, you will heat 4 Tbsp olive oil over medium to high temperature, in a large pan. Don't overheat the oil, because they will likely get burnt on the outside and remain relatively raw on the inside. Add half the patties and fry for about 4 minutes, or until golden brown, and then turn them on the other side for another 3 minutes. Repeat the process with the remaining patties.
Nutrition Facts
Sodium:
40
mg
|
Calcium:
84
mg
|
Vitamin C:
80
mg
|
Vitamin A:
1570
IU
|
Sugar:
11
g
|
Fiber:
6
g
|
Potassium:
1226
mg
|
Calories:
119
kcal
|
Saturated Fat:
1
g
|
Fat:
3
g
|
Protein:
7
g
|
Carbohydrates:
19
g
|
Iron:
2
mg
© allaboutvegans.com