Cabbage rice recipe! A quick, super affordable, and very tasty, everyday food.
4 servings for less than 1 euro!
If you're like us, and after you make a cabbage salad, you're left with half the cabbage in the fridge, and stare at it without knowing what to do with it, well... then this recipe is dedicated to you 🙂 Not only the cabbage doesn't get thrown away, but the result is excellent! It only takes 15 minutes to prepare it! Then it takes another 15-20 minutes for it to boil, but you can set an alarm to remind you, and go read a book or something.
A perfect meal for when we're in a hurry and want something delicious.
Try it and we look forward to your comments 🙂
This post contains affiliate links. If you make a purchase, we get a percentage, at no extra cost to you. As an Amazon Associate, allaboutvegans.com earns from qualifying purchases.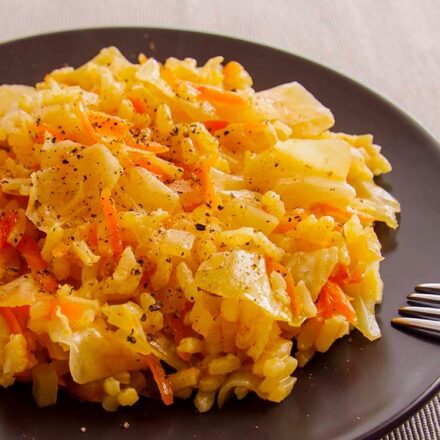 Cabbage rice in 30 Minutes - A super easy, tasty, and within budget, recipe!
Easy, quick, within budget, and very tasty, everyday recipe for cabbage rice, with only 4 main ingredients.
Print
Pin
Cost:
€ 1.38 (all 4 servings)
Ingredients
1

cup

rice

(we recommend arborio)

250

 g

white cabbage

(8.8 oz) cut into 2 cm/0.8 in squares

1

liter

vegetable broth

or water

1

tomato

grated

1

onion

finely chopped

1

carrot

grated

5

Tbsp

extra virgin olive oil

½

tsp

curry

salt and freshly ground black pepper
Instructions
In a large pan heat the olive oil with the curry over medium to high heat.

Once warm, add the onion and sauté for 2 minutes.

Then, add the rice and sauté for 2 minutes (first rinse and drain it).

Next, add the tomato and carrot and continue for 1 minute, stirring frequently.

Add the cabbage and sauté for another 2 minutes.

Finally, add the broth (or water), salt and pepper. Cover and simmer over low heat for 15-20 minutes. After 12-13 minutes, taste the rice every now and then and when it's done, remove the pan from the heat. If you intend to leave it in the frying pan for a while, remove it just before the rice is fully cooked, as it will continue to soften.

It is served warm, but is eaten pleasantly and cold, especially when the weather is warm.
Notes
We always recommend broth instead of water. In this recipe it is very easy to make our own broth from the vegetables we'll use in the recipe or parts of it that we would throw away. So, to make our broth, put in a pot, a liter/34 oz of water, the tomato peel, the outer layer of the onion (just below the peel), which is often rough and thrown away, a little piece of carrot, and a few spices to flavor, such as curry, coriander, and turmeric. If you want to enrich it you can also add some red pepper.
Nutrition Facts
Sodium:
347
mg
|
Calcium:
744
mg
|
Vitamin C:
656
mg
|
Vitamin A:
4540
IU
|
Sugar:
59
g
|
Fiber:
46
g
|
Potassium:
3227
mg
|
Calories:
646
kcal
|
Saturated Fat:
1
g
|
Fat:
3
g
|
Protein:
27
g
|
Carbohydrates:
145
g
|
Iron:
9
mg
© allaboutvegans.com